Jewish area
Zuiderkerk
Montelbaanstoren
Diamonds history of Amsterdam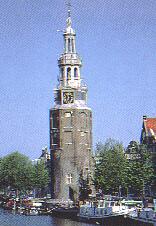 Leave the Nieuwmarkt by the St. Antoniebreestraat, off the southern corner and walk briskly down this modern shopping street to turn right, via a narrow arched gateway between nos.130 and 132 into ZUIDERKERKHOF. The Zuiderkerk (south church), in the middle of this small square is landmarked by its graceful spire and clock tower, embellished with red and gold dials. Designed in 1603 this church is the first post-Reformation Protestant church, and its graceful spire is claimed to have inspired Sir Christopher Wren, architect of St. Paul's cathedral and other historic London churches.
Go back through the Zuiderkerk gateway and turn right. At no.69 St. Antoniebreestraat, the De Pinto house was built in Italian Renaissance style by Isaac da Pinto, head of a Jewish dynasty who fled Spanish-ruled Antwerp in 1680. The building is now used as a public library. Lovely painted ceiling, worth a quick look. Continue the street's opening onto the waterfront at St.Antoniesluis.
Your next outstanding landmark is the Montelbaanstoren, built as a defensive tower in 1512 and prettified a century later. This made is top-heavy, and it began to lean precariously canalwards. The Amsterdammers, seeing no benefit in having a rival to the Leaning Tower of Pisa, had it hauled upright again and reinforced its foundations. Rembrandt, who lived not far away at the other end of the canal, made a number of drawings and etchings of the tower, eland it was a rendezvous for Jewish refugees from Spain and Portugal.
Get to the Nieuw Uilenburgerstraat and walk it down to its southern end. On your left, just before the junction with Uilenburgersteeg, is the Gassan diamonds factory. Built in 1879 by the Boas family (who incidentally moved to Antwerp and I happen to deal with their grandchildren in some diamond business), it is open to the public, with daily tours and demonstrations of diamond cutting and polishing. Unfortunately this is only show today, since the diamond industry, cutting, brokering and all serious trade moved since WWII to Antwerp. But let's have a summary of the history of diamonds in Amsterdam.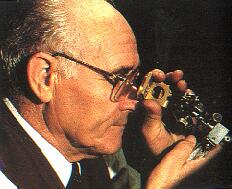 Amsterdam became Europe's pre-eminent diamond broking and cutting center as a result of combination of religious tolerance and intolerance. As we have seen, Jews arriving from Spanish lands were not persecuted, and were permitted to worship openly—the Great Synagogue, further along this walk is the oldest synagogue in Western Europe—but they did suffer discrimination and were excluded from the guilds and professions. Many of the Sephardic Jews who arrived in Amsterdam from Spanish-held Antwerp in the early 17th century were diamond dealers with Portuguese connections. They dealt in raw diamonds, recruiting cutters and polishers from the Jewish community and Jewish workers came to excel in this new skill. In the 19th century diamond trade expanded into a fully industrialized process, team powered tools were introduced in 1845 and the discovery of large diamond fields in South Africa in 1869 led to a boom. Amsterdam remained the world capital of the world until WWII when most of the city's Jew workers were deported and murdered by the German occupiers. Ironically, it's Antwerp that won back leadership of the world diamond market it had lost 350 years earlier.
Cross the canal and walk to the Jodenbreestraat, once the bustling heart of Jewish Amsterdam, and turn right. Much of the Jodenbreestraat's character has been destroyed over the past decades, first by Nazi Holocaust and later by the demolition of its entire north side to make way for the dull modern block, built in 1965, which now occupies the site. A century ago the street was a colourful maze of slum apartments and alleys where the poorest Jewish families lived, often ten to a room.
Let's face it: except the house of Rembrandt we will visit in next article, nothing attracts our interest in this street disfigured by sinister buildings.
Streaming powered by Unreal Media Server